So we woke up in Day 4 at about 430am. Our train reached Hanoi Train station at about 530am so the train 'waitresses' will knock on our cabin doors before that so that we can prepared to change/washup and immediately disembark when the train stops. The TSC train was way more jerky so I was up even before the people came about knocking.
Weather was cold and wet as it was drizzling when we reached. We were supposed to find our way to New Moon hotel (remember Day 1). After we got our orientations right, New Moon was about 100-150m away across the road only. When we reached New Moon, we had to wait for the service staff to settle another group of tourists. Kenny went to check if we had a room booking which was mentioned to guide Phuong over at Sapa when he called the tour operator. Although we only had about less than 4hours, we welcomed the room where we had our bath and another nap till breakfast was ready at 7am.
Guide Sang came to pick us up at 8am on a 3-hour journey to Halong Bay pier. It was more than 4 hours with a half an hour rest-stop in between. Weather was chilly but better than Sapa by alot, the hazy view ahead made me didn't quite look forward to the cruise. Anyway, we had a smaller boat (think Pulau Ubin bumboats) to transport us onto the Junk which is under
V'Spirit Cruise
. Ours was a 2D1N itinerary very close to this
link
.
So here goes the spam of photos.
01. Route tickets that our guide had to pay for us. Cost only VND130k each only...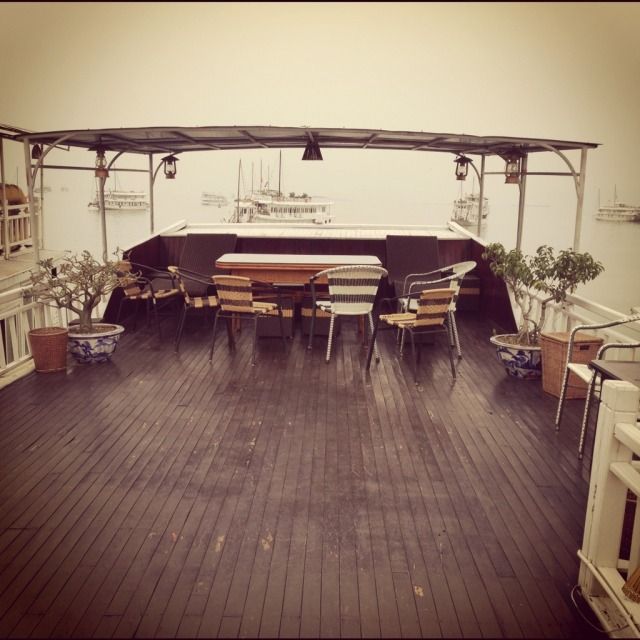 02. Empty sundeck greeted us! (Facing back of Junk)
#instagram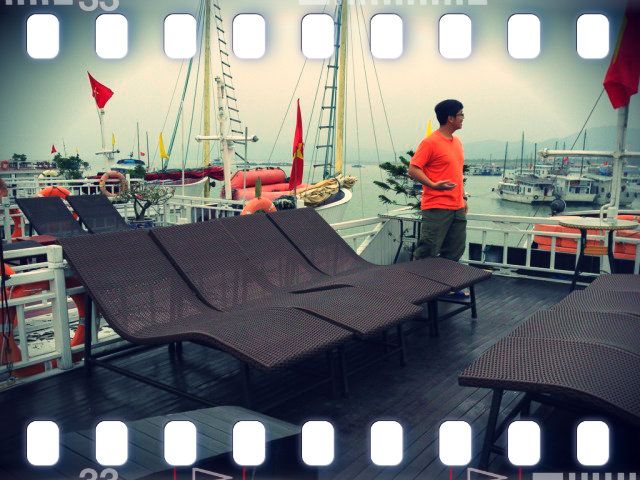 03. Thats my hubs checking out the deck. (Facing front of Junk)
#effects
by photobucket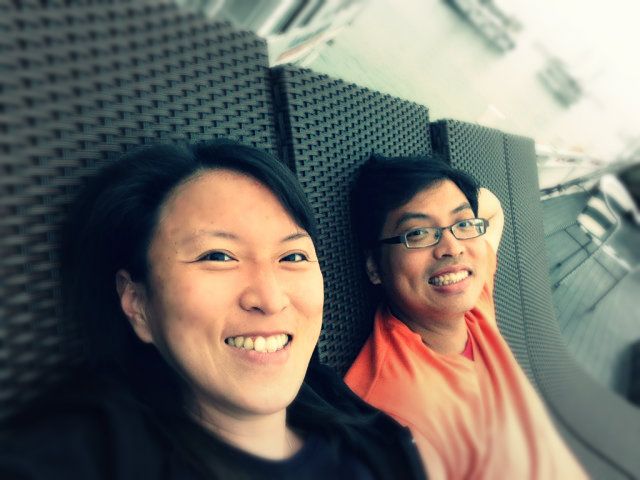 04. Thats us chilling on the deck chairs, enjotying the breeze. Was awesome!
#effects
by photobucket
And then lunch was ready for us. There was nobody on the Junk so I joked to the Guide. I said, 'I thought I only booked a cabin, now I have the whole Junk!' Lunch was alot of dishes, fish, chicken, pork, soup, vege and salad.
After lunch we chilled a little more at the sundeck and/or our room until it was time for Kayaking. I was so NOT LOOKING FORWARD to the kayaking cos the weather was cool and breezy. I was not prepared to get wet and we both didn't have our swim wear.
#underpacked
But it turned out really fun too. No pictures because we didn't prepare to waterproof our cameras (which was our phones actually). So its wasted cause the place where were did kayaking was really peaceful. No waves as it was protected by the rocks and even the winds too. So it was not cold at all and I was really glad that Kenny was very good at kayaking. We could go very fast if we wanted to. We exercised for about 1hour and explored every 'rock' in the vicinity.
The guide then brought us to Soi Sim beach where we climbed 150 stone steps up and trekked about 100 steps of vegetation. View was good except that the fog was thick and we couldn't get good shots. Maybe it is just me having
#noskill
cos Kenny did manage to take a few pics lah.
After Soi Sim beach, we were told that the hot water is ready for bathing, that explains the cold water coming from the tap despite having twisted the handle to the warm side. I think in the Junk you only have hot water at selected timing. After an warm bath, dinner was ready and we finally got to meet the only other couple staying in the same junk, Mark and Maria.
Mark and Maria came from Quebec City, Canada. Immediately I thought of Vivian and her 2-week stay with me. For the next 3 meals, the 4 of us ate at the same table and chatted on many things, housing, education and fees, their lifestyles, cooking, super market and such...
We ended the night super early... I think I had the best sleep on this night, as I noticed my dark eye rings getting better.
Day 5 I woke up super early as well, with Kenny telling me a nightmare that he had, the conversation we had resulting from the senario in the dream was something I would never forget... It was sweet! :')
The main part of today's programme is the Sung Sot Cave tour. Cave consisted of 3 chambers, 1st chamber is the smallest which many tourists were stuck at at the beginning. Its about the size of a room in a HDB flat, with high ceilings. The 2nd chamber is 3 times bigger than the 1st so its like a 3-rm HDB flat. The 3rd is the largest which most of the photos were taken. It was hard to take pics in there as the lighting was dim so I had to take multiple shots and delete the blur/dim ones.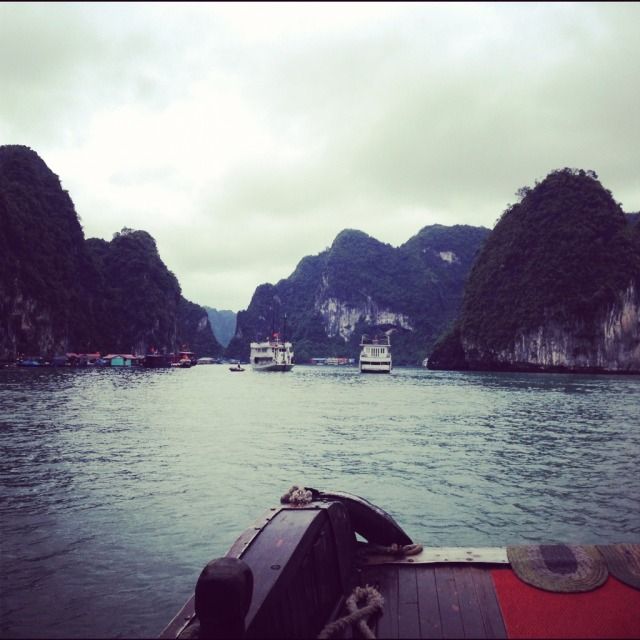 05. On the way to Sung Sot Cave. The entrance to the Island is hidden behind the rock on the right.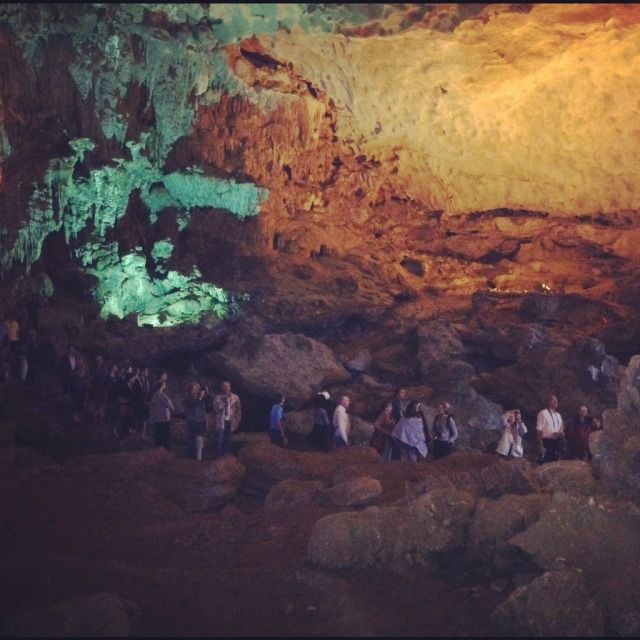 06. I am standing at the beginning of the foot path of the 3rd chamber looking at the end of the path.
07. Me at the same spot, taking at the middle part of the path. The path is a U-turn path. Many other pics can be found on my FB.
I was curious at how this cave was created. The stalactites (from ceiling) and stalagmites (from ground) I learnt in Geo Textbooks but this cave is not found from what I learnt in erosions. I found out (and later verified online) that the origins was underwater volcanic activities creating the clusters of islands and islets at Halong Bay. Sea water dissolving the limestones composites resulting in this chambers. After more volcanic and techtonic activities, the underwater mountains (together with the caves) rose above water. And more erosion/formation activities resulted in the stalactites and stalagmites, sometimes merging to be columns/pillars.
After the facinating cave tour, we hung around the sundeck as we have already checked out of our cabins. After transferring to the dock and long bus ride back to Hanoi, we were dropped at our hotel Sunshine Suites. Before I show u the interesting facility in the toilet, check out what I observed of the vietnamese language.
08. Take at the rest-stop. The pronounciation of Male and Female strangely resembles the chinese hanyu pinyin of 男 Nan and 女 Nu.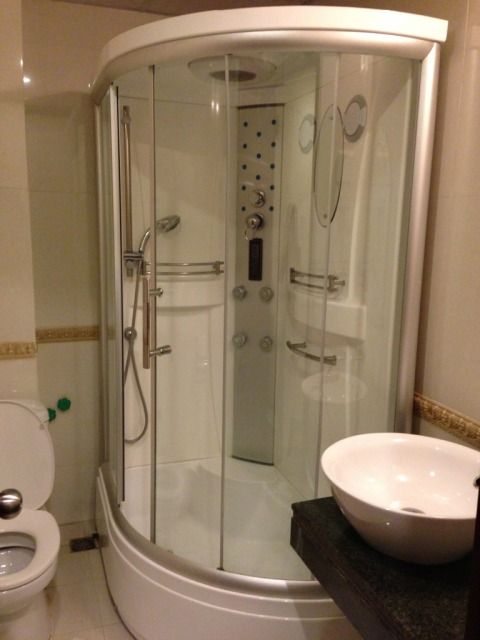 09. So in our room toilet there is this glass chamber thingy. It actually has a steam function so I spent like 10mins steaming myself before showering proper.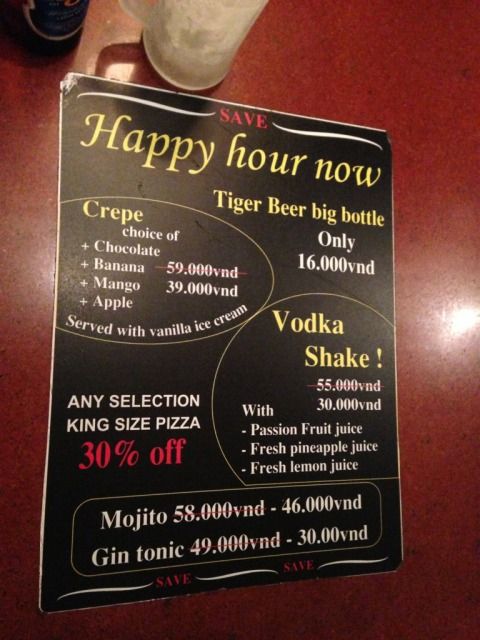 10. A restaurant named Gecko at "Old Quarters". It was happy hours so we being cheapo and budget ordered almost everything on this promotion.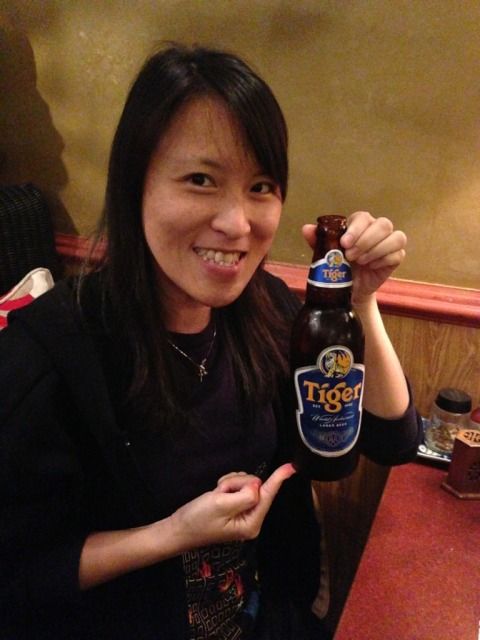 11. My first beer in the trip. This is just SGD1! For a big bottle of Tiger. One of my best pics of this trip, strangely having a good hair 'night'.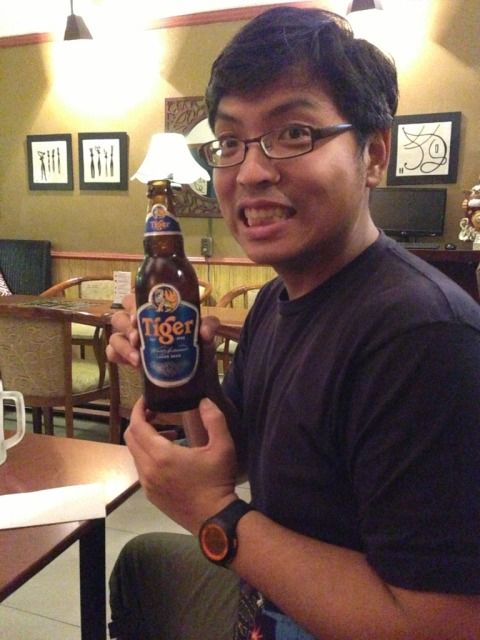 12. Kenny had 2 Tigers. We were satisfied.
After dinner we walked around the Old Quarters and the lake in the vicinity. It was a nice time taking a slow walk in a foreign land with my love in the chilly streets. We bought some Vietnamese coffee power and filter to make the coffee that cost us VND50k in Sapa valley. Also spent our last dong on souvenior keychains for our cellies.
Every night is Vietnam is an early night, with me waking up on my own before the alarm. Tour agency arranged transfer for us to the airport. The driving in Hanoi is just inefficient in my opinion.
I am thankful to have gone to Vietnam and to make it back safely. So adventurous and I found myself being anxious at times.
Thankful that we managed to buy whatever we want with the money we brought. Not having any spare and not having to change extra. Not having to give up any of our wants/needs.
Thankful for the memories and experience together with my hubs. The dream that was not true but got us thinking and appreciating each other.
Thankful for the good weather in Sapa and Halong Bay, although we were not prepared for the elements but after the 1st day I was prepared for worse.
Thankful for all the transfers and transport. I realised I could be more detailed in my planning and I could have communicated more about the flight delay and on tipping and package inclusions.
Thankful for the sights that I saw, I was reminded that my God created all these. I am one out of the 7 billion people and yet God told me He cared for me specifically. Thank You Lord for not forsaking me in the midst of 7 billion people, when I can not even put my thots on You when u are the only God of all. Help me to decrease and may You increase in my life.